News & Events
Stay "in-the-know" about what's happening in and around our district. From award winners to recent events, you'll find it all right here on our News page. Check back often to see what we're up to!
Twenty-First Century Inspires a New Hobby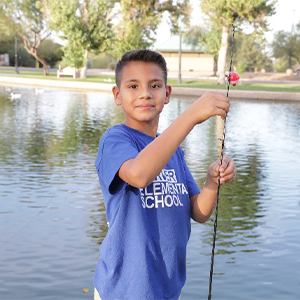 A group of students from G.W. Carver Elementary School had an opportunity to learn about fishing and to cast their lines at West Wetlands Park. Many students had the joy of catching a fish, and each student received a fishing pole and tackle box so they can continue to practice their new skills. Thank you to Arizona Outdoors Desert Southwest and Yuma Valley Rod and Gun Club for sharing your knowledge and equipment so Carver Cobras could enjoy this hobby.
This trip is one of the many great activities that the 21st Century before and after school program offers to students at District One Schools.