News & Events
Stay "in-the-know" about what's happening in and around our district. From award winners to recent events, you'll find it all right here on our News page. Check back often to see what we're up to!
Employment Opportunities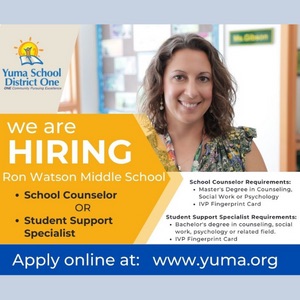 Join an incredible team dedicated to supporting students at District One. Apply for our opening positions today!
We are hiring at Ron Watson Middle School. 
School Counselor 

Requirements: Master's degree in counseling, social work or psychology, and IVP Fingerprint Card 

Student Support Specialist 

Requirements: Bachelor's degree in counseling, social work, psychology, or released field, and IVP Fingerprint Card