News & Events
Stay "in-the-know" about what's happening in and around our district. From award winners to recent events, you'll find it all right here on our News page. Check back often to see what we're up to!
Online Job Fair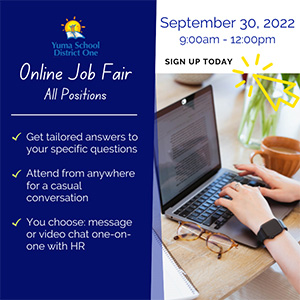 Mark your calendars for our Online Job Fair on September 30, 2022, from 9:00 a.m. to noon. At this fair you can:
Get tailored answers to your specific questions.
Attend from anywhere for a casual conversation.
You choose: message or video chat one-on-one with HR.
Don't miss this opportunity to chat directly with our HR team for personalized information about any open position. Sign up today!